Here are some great additions to your Garden that look great in the Fall!
Green Ash
(is native Texas tree) is very hardy and has a brilliant yellow fall foliage. These are hard to find but ask us at 281-914-7788 or email us at : arborlife@arbor-life.com
Black Gum
(non native tree)A native to the eastern U.S., Black Gum is noted for its outstanding and consistent fall red color. Its wood, which is very strong, was used in colonial times for water pipes.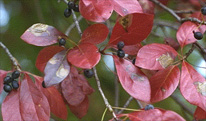 Following pollination, greenish flowers appearing in late spring develop into purple berries. It prefers moist soils and is
one of the most elegant trees of the North American lowlands. Like its name, nymph of the woods, the black gum or tupelo grows more graceful as the lives of those who fall in love with it move on from generation to generation. Its fall color comes early and is unmatched.
Swamp Chestnut-
The leaves are simple, alternately arranged, 4" to 9" long, and 2 ½" to 5" wide. They are ob-ovate, broadest in the middle and above. The leaf base tapers to the petiole and the leaf tip is rounded. The upper leaf surface is lustrous, dark green and smooth while the underside is duller and fuzzy. Leaf margins are coarsely wavy-toothed. Leaves turn crimson in the fall.
Texas Pistache-
(native tree)
This rare, evergreen tree from the Southwestern part of the state is an ideal choice for quickly screening out noise and poor views. Mature Texas pistache is a striking specimen tree, with its delicate foliage and attractive white, peeling bark. Trees are sexed, with female trees predominating. The small forming fruit is red, turning black as it dries. It is a favorite treat of songbirds and other wildlife. Foliage turns bronze/purple in the Fall and leaves regrow in late Winter.
Texas pistache is generally deer-resistant but tips will be nipped back when plants are small. We recommend only the most well drained locations for the plant, as it is susceptible to damage from prolonged contact with soggy soil.(look below at picture)
Sassafras Tree
is often grown as an ornamental tree for its unusual leaves and aromatic scent. Outside of its native area, it is occasionally cultivated in Europe. Sassafras oil, is distilled from the root bark or the fruit. It was used as a fragrance in perfumes and soaps, food (sassafras tea and candy flavoring) and for aromatherapy.
The smell of sassafras oil is said to make an excellent repellent for mosquitoes and other insects, which makes it a nice garden plant(which is good thing in Texas) Look below for tree picture!
If you have any further questions about these trees or any other plants feel free to email us at : arborlife@arbor-life.com